What's New

Equipment Field Customization
This release introduces the ability to enable/disable most of the built-in fields on equipment records. You can also now choose which of the enabled fields should be required when creating or editing equipment.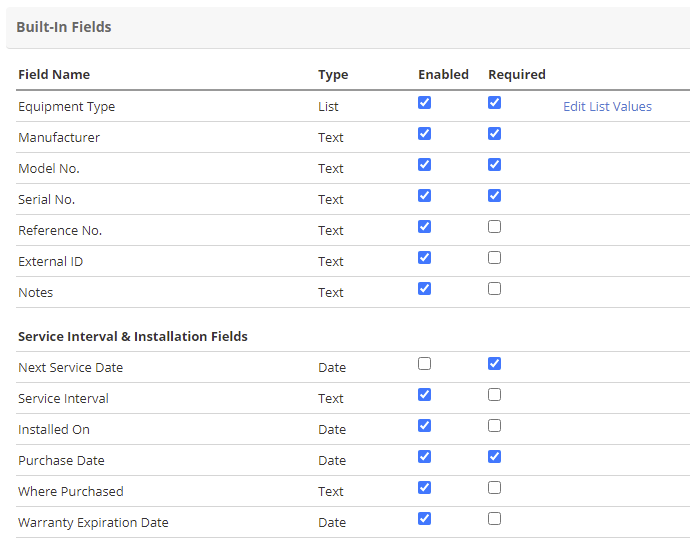 Improved Accounting Integration (QuickBooks Online only - for now)
Invoice payments can now be synced to QuickBooks Online.
A new interface for managing the integration between BlueFolder and your accounting system.

View invoices and payments that are ready to be synced then easily initiate a sync for all without having to sync invoices/payments individually. You can still sync invoices/payments individually if you prefer.
The new "Sync Log History" shows details for every data-sync operation with your accounting system, giving you a detailed audit trail for all synced accounting data.

For this release, the new features are exclusive to QuickBooks Online, but a near-future release will add support for QuickBooks Desktop.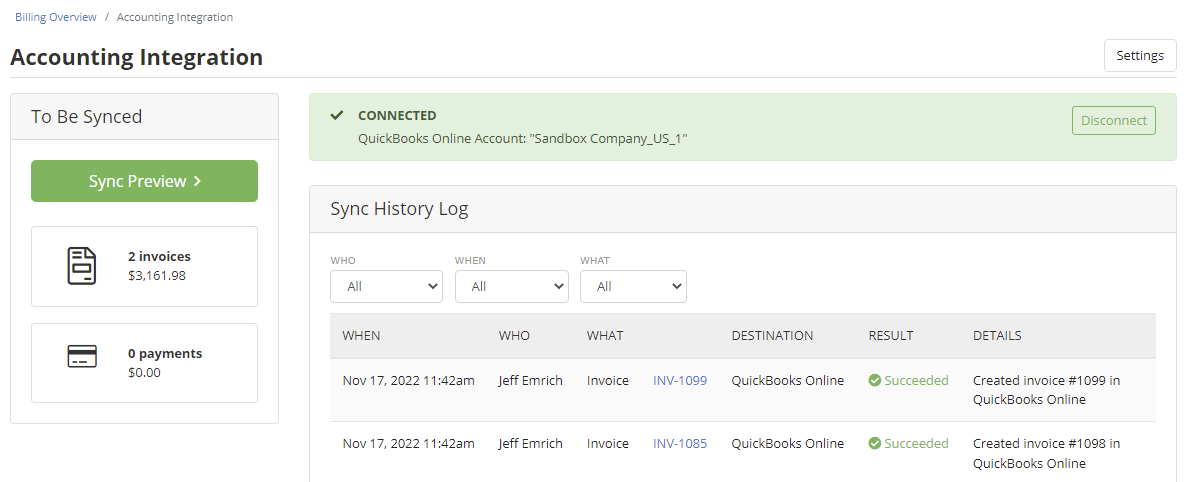 Other Invoice Improvements
The "Billing Overview" page now includes a new 'Outstanding Invoices' aging graph that displays all outstanding invoices grouped by the number of days overdue they are.

The invoice payment terms list now includes "Net 45".
Disable Invoice Status - if you don't want to track invoice status in BlueFolder you can now disable it in the settings (Settings > General > Billing). Look for the option titled "

Track invoice status in BlueFolder" in the "Invoice Settings" section of the Billing Settings page. Note that when turned off, you will no longer see invoice status anywhere, or the invoice aging graph, or the built-in invoice reports. Also note that invoice status tracking is required when using BlueFolder Pay.
Misc Improvements
When creating a new user, it's now possible to NOT immediately send them an invite email. This can be useful when pre-loading your users before you want them to have access. Look for the new checkbox on the New User form. After creating the user, you can send them an activation email from the user list.
We've added links to download our mobile apps on the Login page and the page that displays after a user activates their new account. These features will help when setting up new users who will only be using our mobile app.
Minor usability improvements have been made to the customer dropdown list that appears throughout BlueFolder.
The character limit has been increased for custom fields, making it possible to store much more data, especially for "multiline" text fields.
Bug Fixes
Fixed: Formatting error when viewing email notification details from the work order log.
Fixed: Public comments still viewable in customer-facing areas and print-outs when original comment was added as public to a labor, materials, or expense item and later changed to private.
Fixed: Intermittent "arithmetic overflow error" when closing a work order.
Fixed: Errant character is visible in the "Related To" area of a work order's sidebar.
Fixed: Main navbar tab doesn't stay highlighted when mouse cursor is hovering over the tab menu contents.
Fixed: Long text that doesn't contain spaces doesn't wrap, causing certain pages width to stretch awkwardly, resulting in some items appearing off-screen.
Fixed: User permissions problem creating an appointment in mobile app.
Fixed: Font size of billing summary changes after sending via email and clicking print.
Fixed: Invoices containing multiple work orders don't retain proper line-item ordering in QuickBooks Online. Please note that some limitations remain due to how QuickBooks Online manages line-items when printing.
Fixed: Long work order numbers overlap into other text on mobile app.
Fixed: The default value for work order priority isn't being applied when creating a work order via the mobile app.
Fixed: Showing "INV-" in the External Invoice No field on work orders.