The 'Settings' page is where you'll personalize your BlueFolder account for the nature of your business, your company, and your users.


'Settings' tab
The best way to personalize your account is to follow the sub-tabs or categories under the 'Settings' tab. Be prepared to spend about 20 minutes setting up your profile, uploading your logo, defining your user roles, etc. Having your account tailored to you and your business will give you the best experience as you test the BlueFolder software.



'General Settings' sub-tab
Here's where you can upload your logo, change the appearance of your account, and determine the settings for your billing and jobs. Follow the links on the left of the page to begin editing.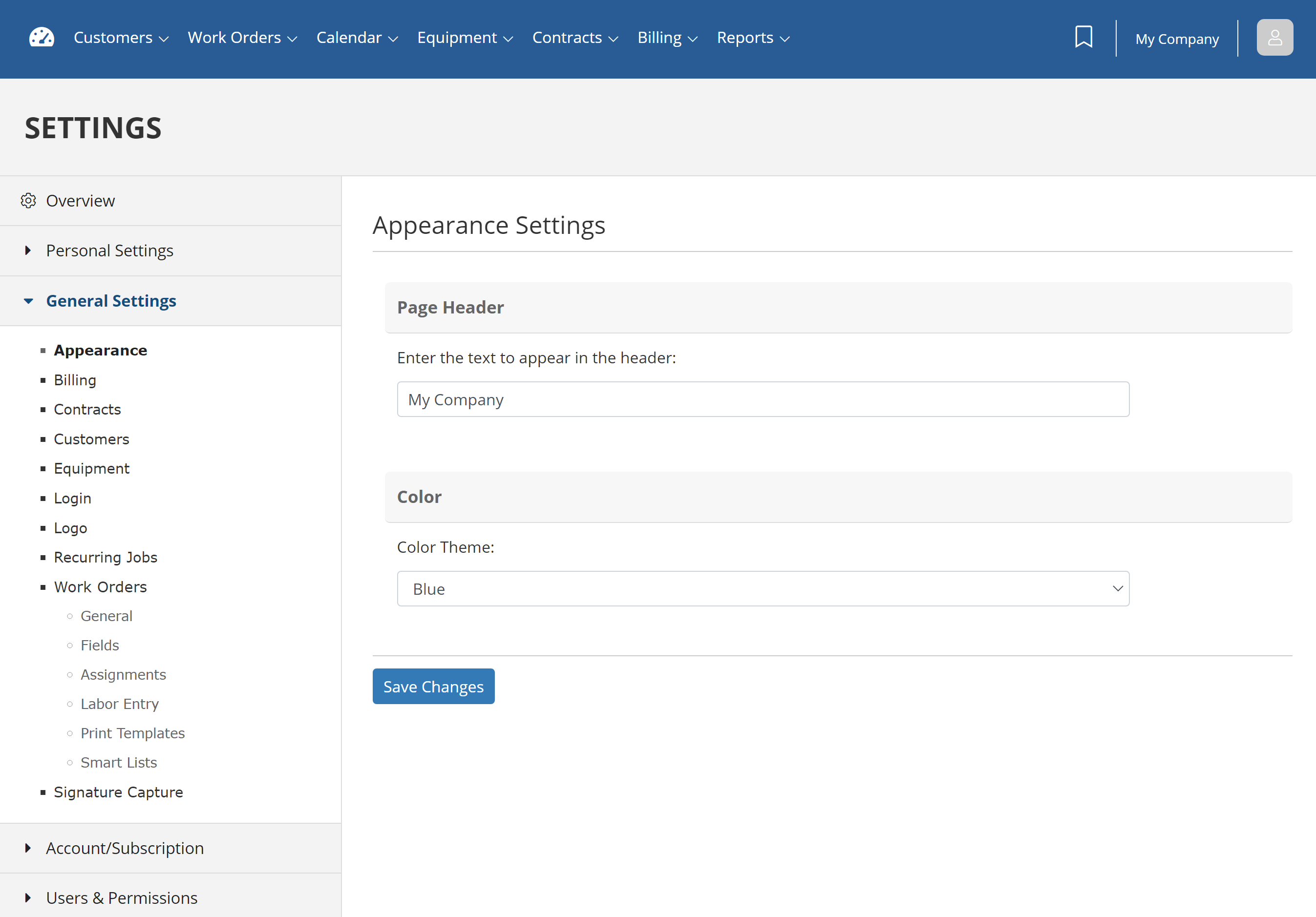 'Account/Subscription' sub-tab
Customize your account URL, edit your company profile, view your storage usage, and update your credit card info (once you've purchased.) During your trial you may simply skip this sub-tab unless you'd like to customize any of the above mentioned info.

'Users & Permissions' sub-tab
Add users, define roles, define password policy, manage user groups, and manage permissions for your field service team. To keep things moving along, you can leave most the default settings in place here and refine them once you're really using BlueFolder and see the need for more customization.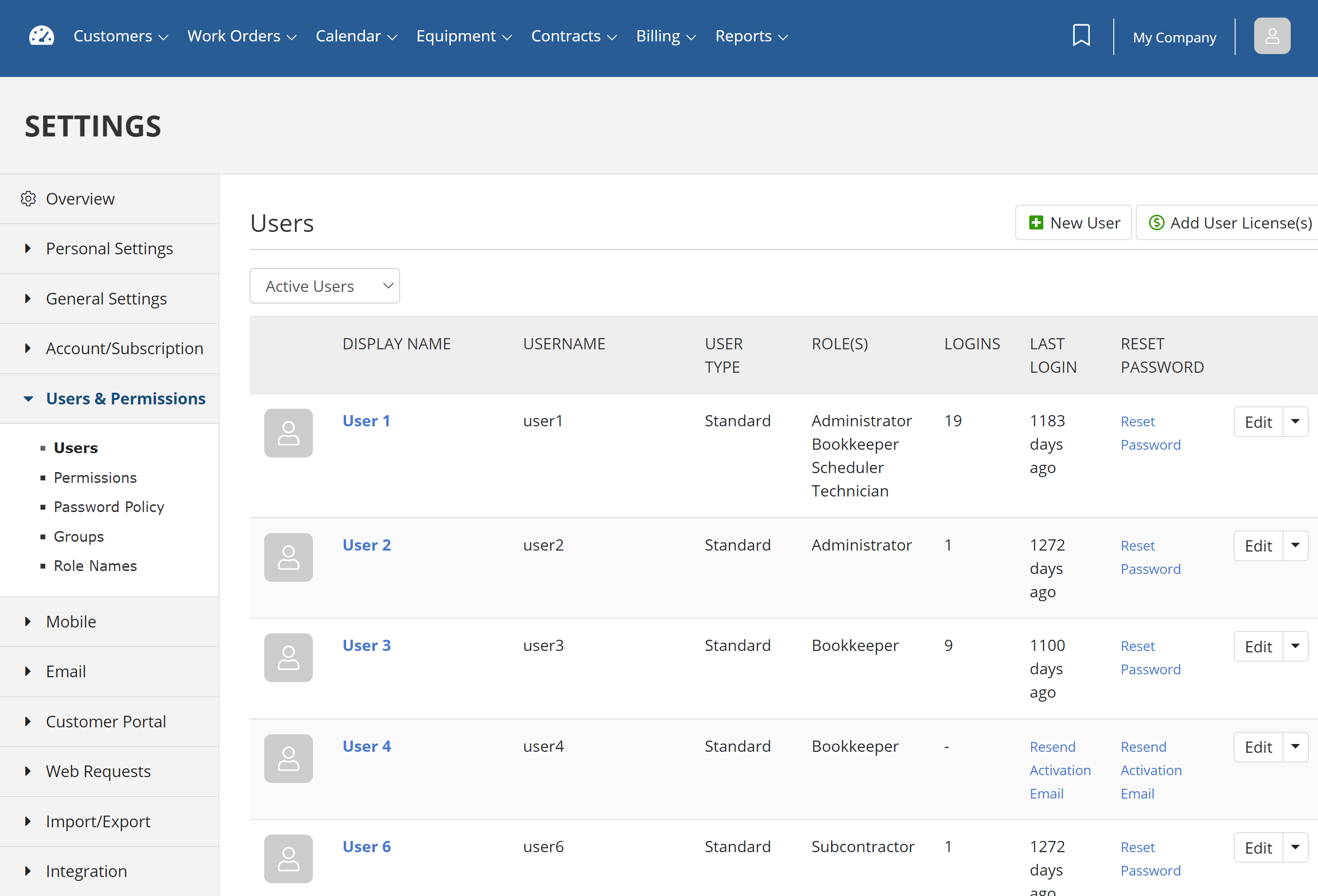 'Mobile' sub-tab
You'll find your mobile access URL under this sub-tab. This is the link you'll share with any of your users who have read/write access to BlueFolder. If you'd like to learn more about how BlueFolder's Mobile Access works click this link.

'Email' sub-tab
Change your default email address or specify how BlueFolder should handle incoming emails if you keep your default BlueFolder email address. This is also where you will set your global notifications and customer notifications. If you're not sure how these should be set, no problem, you can leave the defaults while you test your trial account and reset them later.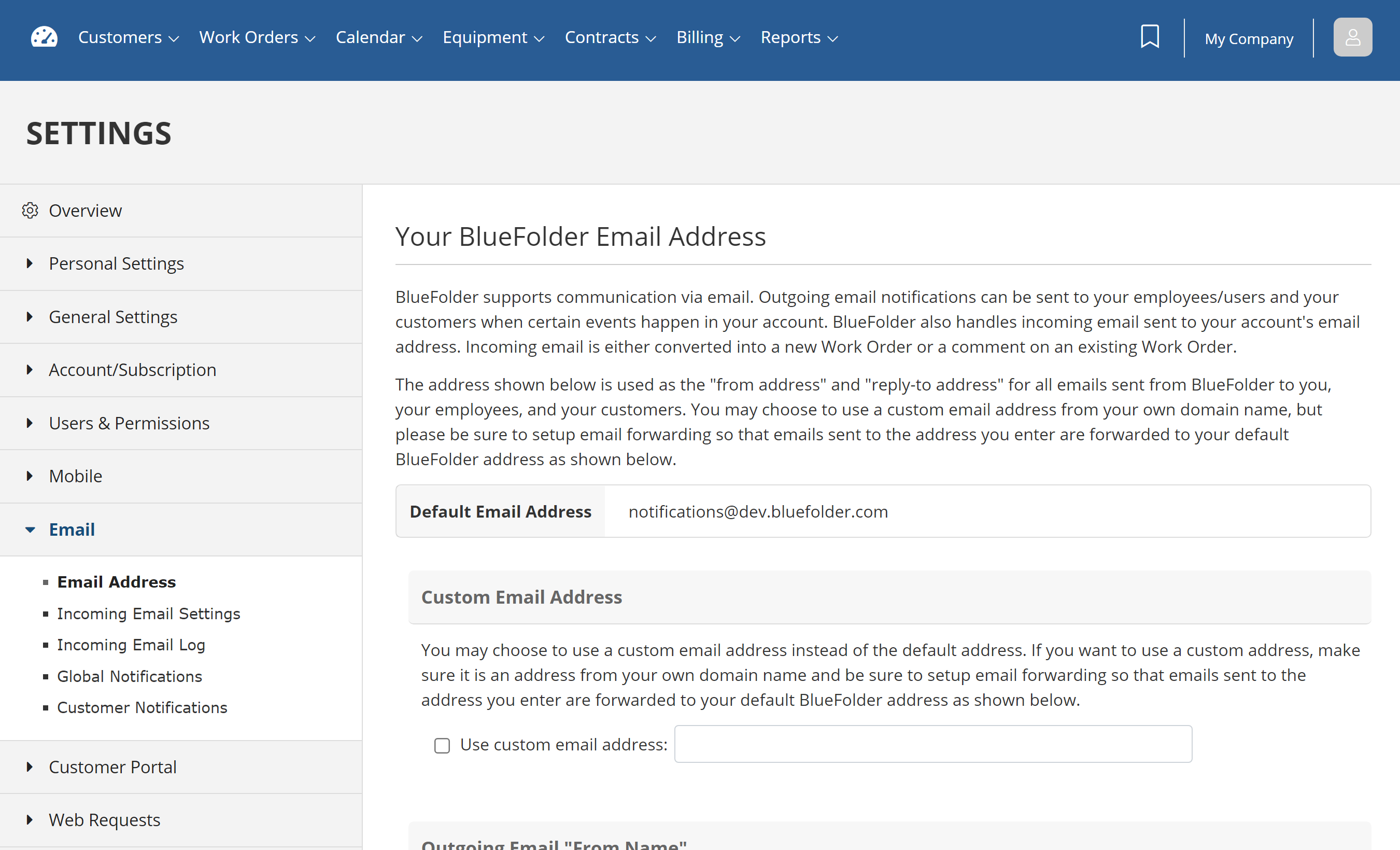 'Customer Portal' sub-tab
If you plan on purchasing BlueFolder's Business or Enterprise packages you'll have access to our super-awesome Customer Portal. This sub-tab is where you'll set-up how the portal will appear to your customers when they login. This is also where you'll create a login and password for the customers you'd like to give access to. If you'd like to learn more about how BlueFolder's Customer Portal works click this link.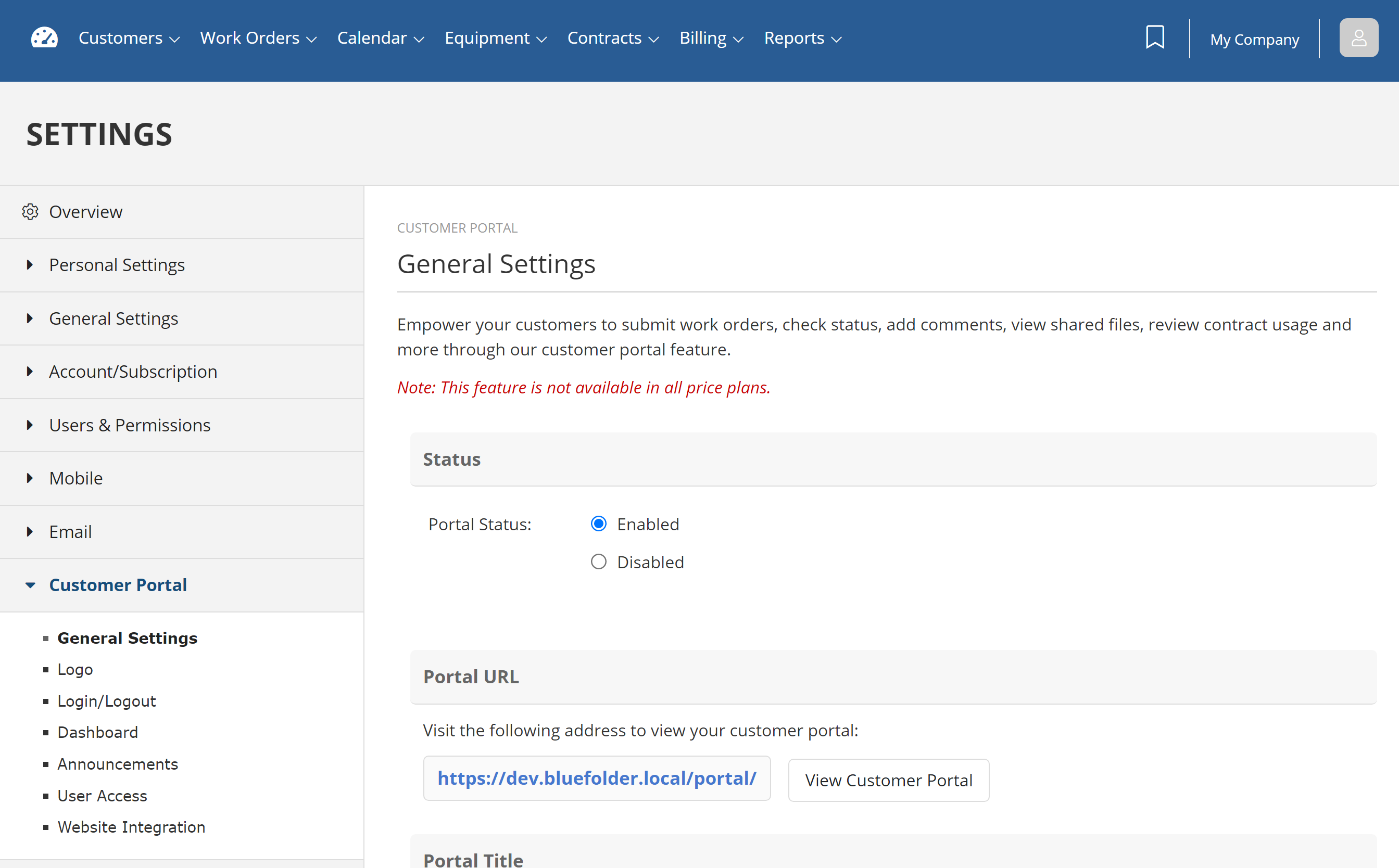 'Web Requests' sub-tab
This is where you'll be able to manage web request settings and customization as well as learn more about website integration.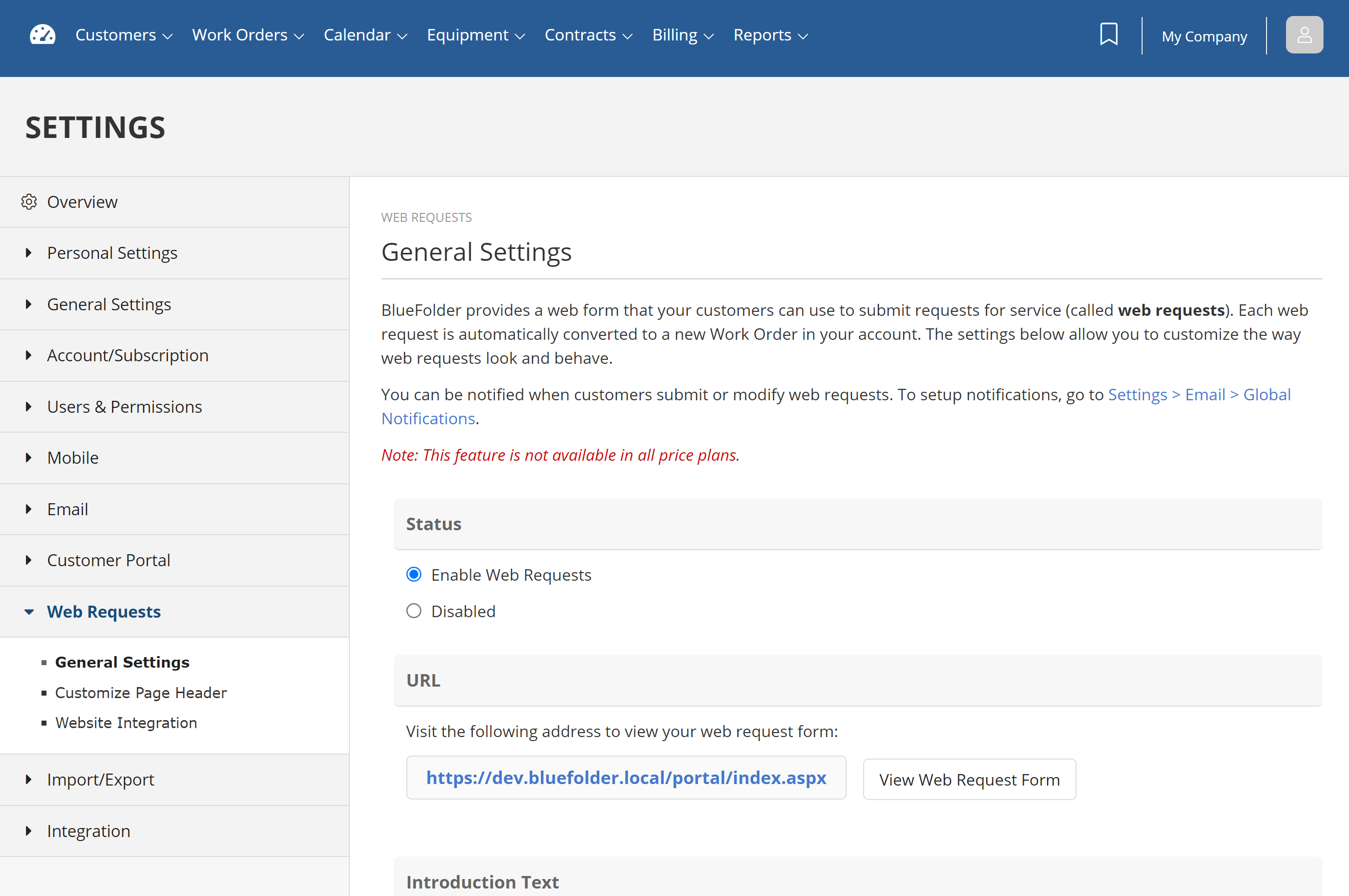 'Import/Export' sub-tab
Import customers, equipment records, or items - just click the live links on the page and upload your prepared file.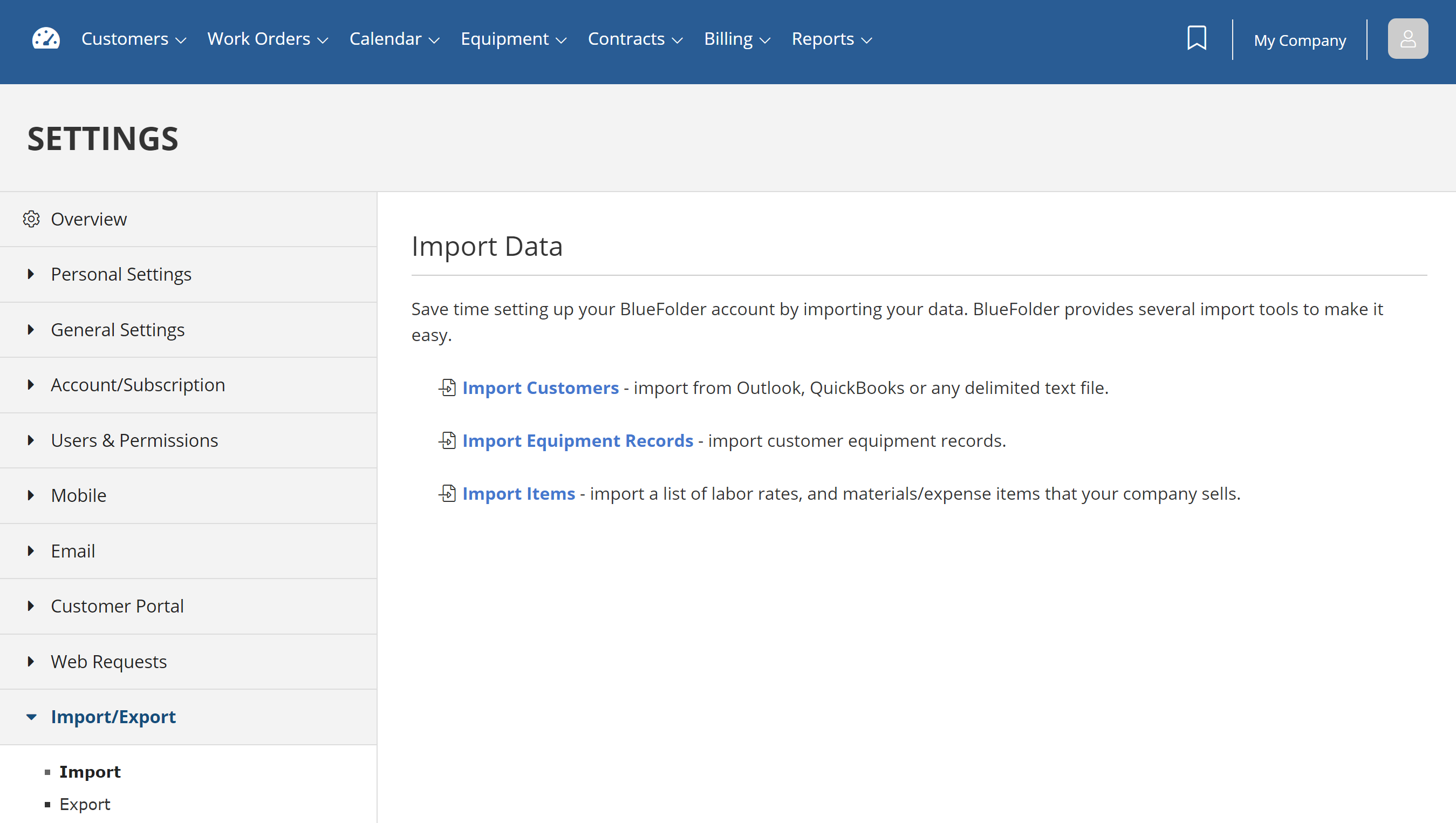 'Integration' sub-tab
Here's where you'll define any API settings. If you're not sure what API settings are there's a good chance that you won't be working under this tab - perhaps you have a developer on your team who manages your more techie tasks. This is where they will live. Feel free to look around though!