The following BlueFolder product updates will be released this evening.
Labor Start/Stop Time
BlueFolder has always had an optional "Start Time" field for labor added to a work order. With this release, we're improving labor entries with the following changes:
Labor entries now have a new "Stop Time" field.
A new settings page for labor preferences has been added to Settings > General > Work Orders > Labor.
New preference for controlling labor start/stop time. You can control whether start/stop time is:

Disabled (and hidden)
Enabled and optional
Enabled and required

Two new fields have been added to custom reports:

Stop Time
Calculated Duration (see below)
Entering Start/Stop Time Values When Adding Labor

When adding labor to a work order, you can enter start and stop time values in the following ways:
Choose a time from the dropdown list.
Type a value into the textbox. When typing a value, you can enter a shorthand value and it will automatically be converted to a properly formatted time value. For example,

Enter "11a" and it will be converted to "11:00 AM"
Enter "230p" and it will be converted to "2:30 PM"

After specifying a start and stop time, the "Calculated Duration" will be shown to the right of the stop time field (see screenshot above). The calculated duration represents the actual difference between the start and stop time. For example, the calculated difference between 8:00 AM and 11:23 AM would be "3 hrs, 23 min".
You can copy the calculated duration into the "Duration" by clicking the "Copy Start/Stop" button next to the duration. Note that when copying the start/stop into the duration, the value will be rounded up to the next 6 or 15 minute interval, according to your labor duration preferences.
Improvements to Assignment Completion
When adding labor while completing a work order assignment, the user interface has been improved to include start and stop time next to the labor date. We've also added the ability to edit the Price/Hr and Cost/Hr for the labor entry (subject to user permissions as usual).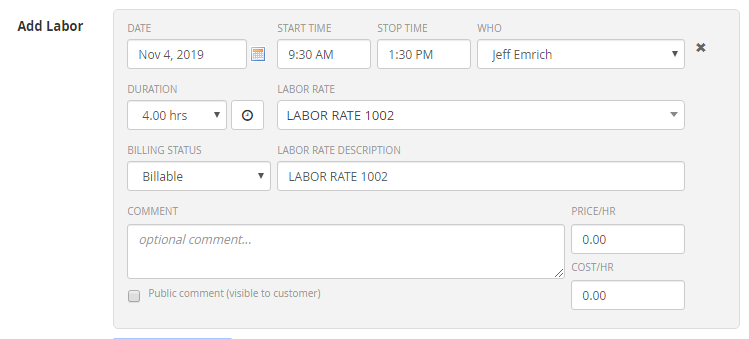 Improvements to Choosing a Contact for a Work Order
When creating, editing, or cloning a work order, the "Contact" dropdown list contains all the contacts for the selected customer. Today we're improving the dropdown list by making it faster to choose a contact from the selected "Service Location" for the work order. The new dropdown list looks like this:

Performance Improvement for Recurring Jobs
Recurring jobs now have a tab bar with an "Overview" tab, and a "Log" tab. The "Recent Activity" and "History" lists have been moved to the "Log" tab. Additionally, the "History" list now only displays recent work orders created by the job, along with a link to view all work orders created by the job. For recurring jobs with lots of history records, these changes result in significant speed improvements when viewing the job.